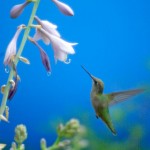 This hummingbird isn't your average beija flor; it's Google's latest update and it might have rocked your world back in August and you might not have noticed until recently. Now those disturbances you sensed in the Force over the past few weeks make a little more sense following Google's announcements of 9/26/13.
All joking aside, these changes in Google's algorithms can drastically affect traffic to your website. As always, Google tells us basically that if we create websites which have good content for humans, and well-formed html, there's nothing to worry about. However many sites continue to run on old infrastucture which is tough to upgrade in a short time, etc., etc. (excuses). Owners of those sites may have the most to worry about when these changes occur.
Here are some links for you to review and get up to speed quickly on these changes. Review your Google and Bing Webmaster Tools data, your web analytics data, and pick up the pieces following this change. Learn from the data you churn: improve your website content and infrastructure, monitor your rankings and your traffic.
FAQ: All About The New Google "Hummingbird" Algorithm (SearchEngineLand)
Google Algorithm Change History (Moz)
Follow search engine changes on a daily basis:
Daily forecast at mozcast.com (weather forecast analogy)
SERPs volatility at serps.com (lots of other useful free tools here as well)